Christian T-Shirts New Designs
New Christian T-Shirts Designs for the month of June. Our Christian T-Shirts featured this month are "Give Thanks", "Bible Believing Christian", Two designs featuring "Be The Light", "Not Perfect Just Forgiven", "His Masterpiece", "God Is For Us" and "Sleep In Peace".
We've added the fonts that are associated with each design. A link has been provided for the fonts being used on our Christian T-Shirts.
***This site contains affiliate links to products. We may receive a commission for purchases made through these links.
Psalm 107:1 (NIV) -"Give thanks to the LORD, for he is good; his love endures forever." 1 Thessalonians 5:18 (NIV) – "Give thanks in all circumstances, for this is God's will for you in Christ Jesus. Colossians 4:2 (NIV) – "Devote yourselves to prayer, being watchful and thankful."
Cool Christian design in calligraphy. Font is Vondey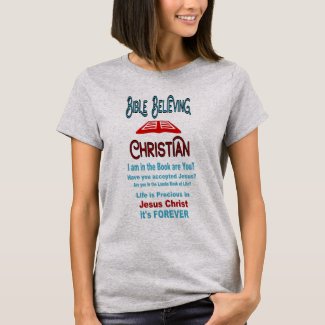 "For God so loved the world, that He gave His only begotten Son, that whoever believes in Him shall not perish, but have eternal life." … This is the true God and eternal life." – 1 John 5:20.
"And there shall in no wise enter into it any thing that defileth, neither whatsoever worketh abomination, or maketh a lie: but they which are written in the Lamb's book of life." – Revelation 21:27.
Font is Avenger
Available also in the Larin Type Co. Vol 2  Font Bundle. Register a free account for an extra savings of 10% off (one-time customer use) coupon code; prevans10 – coupon good until 09/30/2019
"Ye are the light of the world. A city that is set on an hill cannot be hid." – Matthew 5:14
Christian SVG Faith Bundle
"Ye are the light of the world. A city that is set on an hill cannot be hid." – Matthew 5:14
Another cool Christian design with fiery red font color.
Font is Caravan
"For all have sinned, and come short of the glory of God" – Romans 3:23

The font is Amberchild Script
"For we are God's masterpiece. He has created us anew in Christ Jesus, so we can do the good things he planned for us long ago."-Ephesians 2:10

Fonts are Black Drama – Abuget – San Serif
"What shall we then say to these things? If God be for us, who can be against us?" – Romans 8:31

Fonts are Black Drama – Abuget – San Serif
"1 Peter 5:7 Cast all your anxiety on him because he cares for you. Philippians 4:6-7 do not be anxious about anything, but in everything by prayer and supplication with thanksgiving let your requests be made known to God."
Fonts are Sheadaytia – Marhaban – Mustique – San Serif
"Don't use foul or abusive language. Let everything you say be good and helpful, so that your words will be an encouragement to those who hear them." —
Ephesians 4:29
Holy Bible. New Living Translation copyright © 1996, 2004, 2015 by Tyndale House Foundation. Used by permission of Tyndale House Publishers Inc., Carol Stream, Illinois 60188. All rights reserved
. Powered by
BibleGateway.com
.
For more Christian Designs be sure to check out the following sites:
Artistry For Jesus – Artistry Shop – Artistry Collections – Artistry Pinterest
PRE Designs Shop – P.R. Evans Designs Pinterest – P.R. Evans Designs Zazzle
Stylish Tech – Designs By Mark 414
Please follow and like us: